Aspen Pumps Group
For over 30 years, the Aspen Pumps Group has had one mission; to champion innovation that will make the engineer's life easier. Founded by 3 engineers in 1992, the Group has evolved into a modern global business with branded categories including, condensate removal pumps, tools, installation accessories, roof top support systems and specialist chemicals.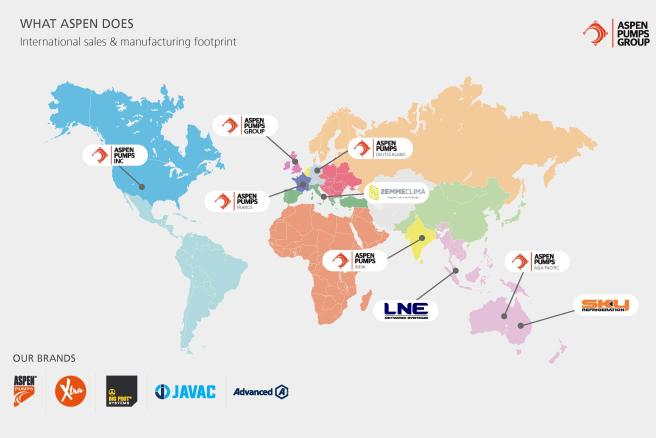 Global award winning business
Aspen Pumps Group is unique in its global reach, trading in over 100 countries worldwide. However, Aspen is not purely an export business; it is a multi-national organisation with sales teams across the world and offices in 4 continents. Our continuous investment in people and warehouse infrastructure means we are a leader in the provision of service quality and customer support. This approach to business means we have the most extensive and well supported wholesaler partnership network in the world. 
The Aspen Pumps Group takes pride in its business performance, celebrating success in its core capabilities of Enterprise, Innovation and International Trade through winning Queen's Awards for each (2009, 2012 and 2019).
Why Aspen Pumps Group?
At Aspen we put our wholesaler customers at the heart of our business, ensuring that through working together we can maximise growth potential through joint marketing initiatives and supported promotions. Our wholesaler customer network has come to expect a steady stream of innovation from Aspen, which in turn leads to a profitable and ever evolving offering for the end purchaser. All of this is backed by expert logistics and unrivalled customer service.
The best product around JAVAC Flexi Torch! Every JAVAC product I have makes my day go so much easier!
Installer
Instagram
Many thanks to you and to the Despatch Team in France for your kind help and to have already made the changes in the system. Really a prompt response to your customer need! Well done!
Wholesaler
France